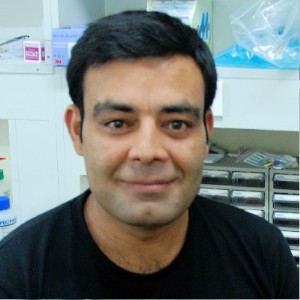 Umar Muhammad, who is attending Ajou University's Graduate School (Department of Energy System Research, pictured above), received the Excellent Oral Presentation Award at the 2017 Korean Physical Society (KPS) Spring Meeting.

Mr. Muhammad, who majors in applied physics under the guidance of Professor Sung Hwan Kim, said in his presentation that he proposed and verified a new physical structure that can oscillate a single-mode laser from organic light-emitting elements of a certain form.

His findings were published in the June edition of Annalen der Physik, an international academic journal, under the title of " Single-mode Distributed Feedback Lasers Using a 25 nm Thick Discretized TiO2 Film for Arbitrary Gain Morphology."

The KPS Meeting is an opportunity for exchange where about 2,000 researchers in physics participate and present their latest research results. It is hosted by KPS, Korea's largest society related to physics.