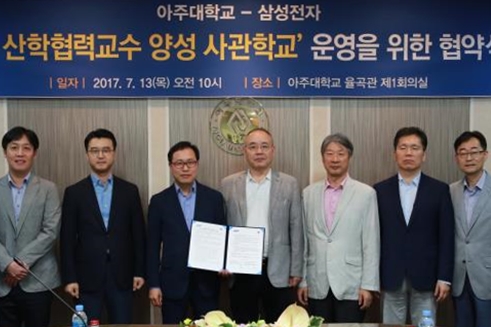 Ajou University signed an agreement on the Industry-Academia Cooperation Experts Academy with Samsung Electronics. The agreement will allow experts with rich work experience in related industries to serve as professors specializing in industry-academia cooperation.

The agreement signing ceremony, which was held on the morning of July 13th in Yulgok Hall's Conference Room 1, was attended by Executive Vice President for Industry-Academia Cooperation Kyung Hee Choi, Vice President for Planning Jung Seob Lee, Director Chae Woo Lee of the Department of Electrical and Computer Engineering, and Professor Young Ho Kim, who specializes in industry-academia cooperation, as well as Team Leader Goon Jin Lim and other staff members from the University's LINC+ Project Group and Executive Director Joo Ho Choi, Director Gwang Heon Lee, and Manager Hee Soo Kim from the Mobile Communication Division of Samsung Electronics.

The two sides will join hands in developing and operating an education program that can help experts in industry successfully become industry-academia professors at universities. The program is part of the LINC+ Project to Support Local Communities and Corporate Innovation carried out and operated by the Industry-Academic Cooperation Foundation under Ajou University.

The University will appoint experts in related industries as Industry-Academia Cooperation Fellows so that they can provide theory-oriented education on industry-academia cooperation and arrange collaboration with relevant departments. In particular, they will be able to gain extensive experience by participating in education and industry-academia cooperation activities. The University will develop and operate the curriculum and provide staff and infrastructure support, while Samsung Electronics will fund program operation.

The first participants of the program, about 10 senior-level engineers (hardware, software, and devices) from the Mobile Communication Division, will be jointly selected by the University and Samsung Electronics. They will attend theory classes and on-site education in partnership with related departments (Department of Mechanical Engineering, Department of Electrical and Computer Engineering, and Department of Software, etc.) of the University for six months from July 26th.

Executive Director Choi from Samsung said, "Based on this agreement, we will work together to produce best practices in which experts in related industries with extensive on-site experience successfully settle down at universities," adding, "I also hope that we will be able to spread mutually beneficial industry-academia cooperation by expanding our effective collaboration."

Executive Vice President Choi from the University said, "It is Ajou's pleasure to launch this program to foster industry-academia cooperation professors for the first time in Korea," adding, "I expect that it will produce fruitful results and spread to many other universities and companies."

He went on to say, "I hope that it will provide experts in industry with opportunities to continue their contributions to the development of their communities and that universities will be able to secure a stable source of talented lecturers with firsthand experience and strong competitiveness.