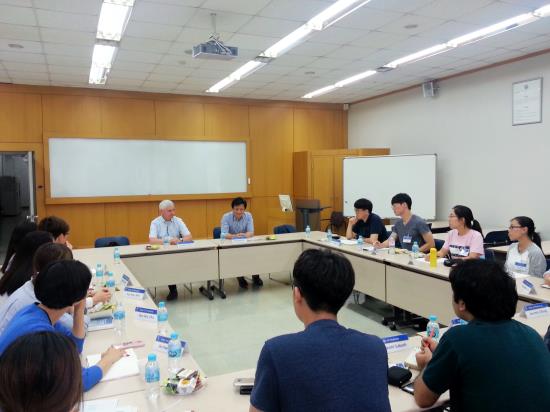 Ajou University's Department of Biomedical Sciences under the School of Medicine signed a dual degree agreement for doctoral courses with Maastricht University in the Netherlands.

It is the first of its kind for dual degrees in neuroscience education and research concluded between a Korean graduate program with a neuroscience major and a foreign counterpart program.

The agreement allows graduate students from either university to obtain doctoral degrees from the other institution by attending regular courses, conducting research projects, and applying for dissertation evaluation. Ajou University plans to select three to five graduate students majoring in neuroscience every year and assist them in obtaining credits and taking language courses for about two years at its overseas partner universities.

Director Byung Gon Kim of the Department of Biomedical Sciences said, "This agreement was possible thanks to our steady efforts to develop international education programs. It will help our school attract excellent graduate students from Korea and abroad and foster researchers in biotechnology industries."

He added, "This agreement shows that our graduate school has excellent, innovative, and pioneering curricula, including Korea's first interdisciplinary program in neuroscience, and points to our status as a truly global graduate school."

The Department plans to further expand various international exchange programs, including fostering global leaders and efficient academic cooperation.

Established in 1976, Maastricht University is a private university which ranked 88th in the Times Higher Education World University Rankings 2016. QS World University Rankings 2016/17 ranked Maastricht University as the top institution in Europe and the 7th in the world among universities that are younger than 50 years.

Ajou University's Department of Biomedical Sciences has contributed to the development of biomedical sciences in Korea by winning major government-funded projects, including the BK21 Plus project, the Science Research Center project, and the Medical Science Research Center project. It introduced Korea's first neuroscience graduate program and has published many research papers in global academic journals, including The Nature Neuroscience, The Neuron, The Nature Communications, PNAS, and The Journal of Neuroscience based on its strong research competitiveness.

* In the above picture, Professor Harry W M Steinbusch from Maastricht University explains its degree courses and exchange student programs to our graduate students on August 29th, 2016, during his visit to Ajou's School of Medicine.