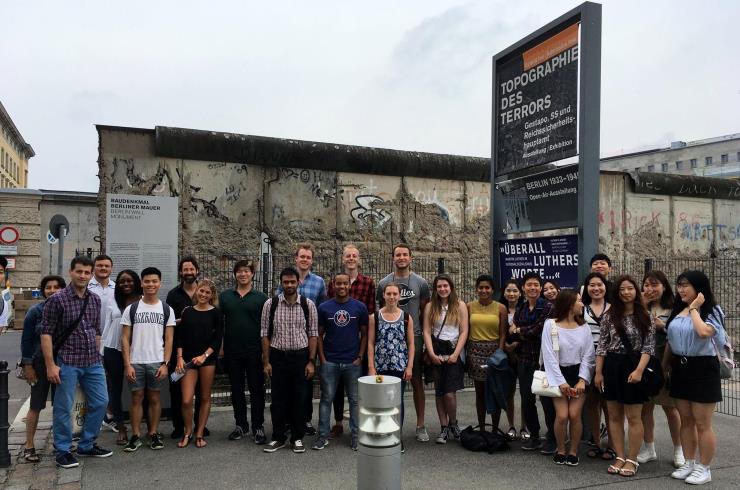 < Students participating in the training program at the University of Bayreuth, Germany, pose for a picture in front of the Berlin Wall. >
About 200 students from Ajou University participated in various international programs during the 2017 summer vacation.

The programs, which were organized by the University's Office of International Affairs, included the After You Program, Short-term Dispatch Program, and Global Internship Program, etc.

This summer, the After You Program was conducted at five universities in the U.S. and China – the University of Michigan, University of Washington-Seattle, and Johns Hopkins University in the U.S., and Shanghai Jiaotong University and the Beijing Institute of Technology in China. A total of 118 students, including those from other local universities were dispatched.

During the four weeks, the participants attended English and Chinese language courses and engaged in various cultural experiences. The Program is an overseas training program for students who find it hard to build overseas experience due to various difficulties. It is funded by donations from inside and outside the University.

Fifty-nine students joined the Short-term Dispatch Program, which allows students to obtain 1-3 credits from Ajou's overseas sister universities. They were sent to eight sister universities – the University of Alabama, Stony Brook University, and Northern Michigan University in the U.S., the University of Bayreuth and Hochschule Hannover University of Applied Sciences and Arts in Germany, and the Qinhuangdao Institute of Technology, Shanghai Jiaotong University, and Hong Kong Polytechnic University in China – for two to four weeks and took classes in foreign languages and their respective majors.

In addition, 52 students were sent to 24 companies in 14 countries, including the U.S., Germany, Indonesia, Malaysia, Uzbekistan, Japan, Australia, Vietnam, and the U.K., under the Global Internship Program, which allows participants to have firsthand experiences of businesses and corporate culture at selected global companies.

The highest number of students, 19, were sent to the U.S. and gained experience at H Mart – the largest Asian mart in America – and CKP – a global accounting firm. Many other Korean companies are joining the Global Internship Program, including KOTRA, BMW, and LG Electronics. In particular, two students were dispatched to the Inter-American Development Bank (IDB) headquartered in Washington D.C., U.S. Many students around the world wishing to join international organizations are interested in the IDB internship.

Under Ajou University's Global Internship Program, students work for a minimum of one month and up to one and a half years depending on the partner company. Participants can obtain up to 12 credits and receive financial assistance from the University.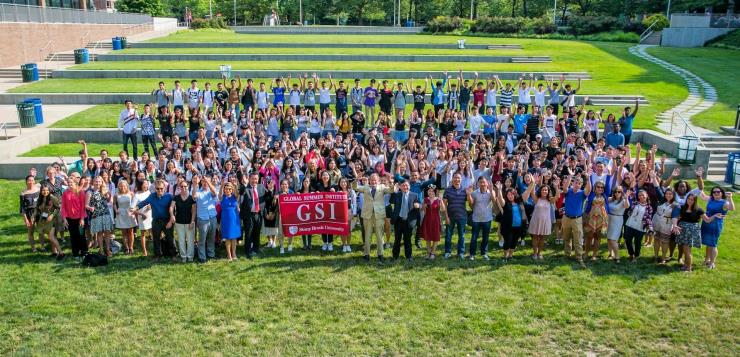 < Students participating in the training program at Stony Brook University in the U.S. pose for a group photo.>