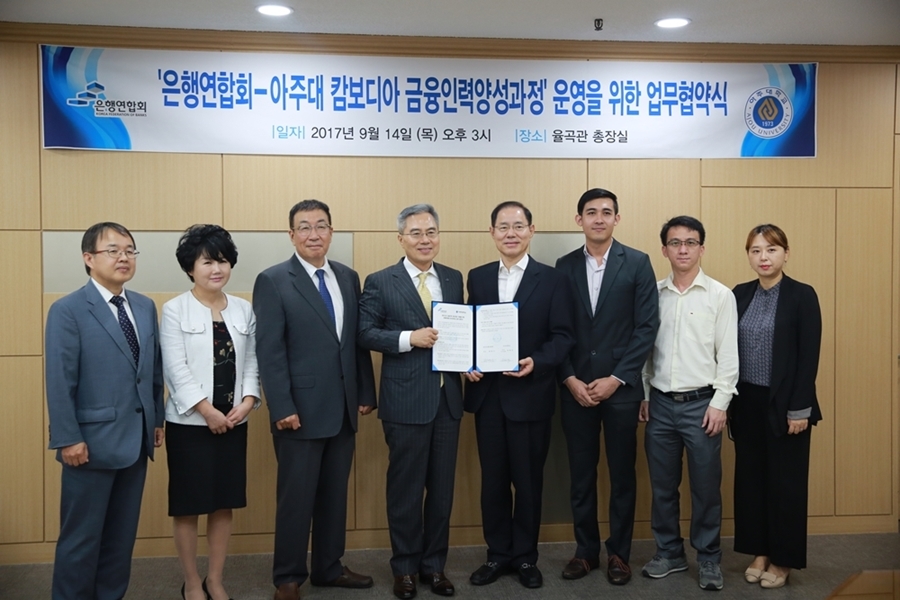 On Thursday, September 14th, Ajou University signed an agreement with the Korea Federation of Banks (KFB, Chairman Yung Ku Ha) at Yulgok Hall's Office of the President to foster talents from Cambodia, including financial experts. The agreement will help Korean banks build their presence in Cambodia.

Under the agreement, Ajou will open and run the 'Cambodia Financial Experts Program' within its Graduate School of International Studies from October, while KFB will provide the Program participants with 180 million won in scholarships over the next three years.

The Program aims to contribute to fostering Cambodian talents as financial experts equipped with the necessary qualifications and developing a friendly network and collaboration between the financial industries of the two countries. It is also expected to help Korean banks enter overseas markets.

KFB Chairman Yung Ku Ha said, "I expect that Cambodian students participating in the Program will have an opportunity to learn advanced financial techniques, which will help Korean banks entering the Cambodian market to hire qualified talents."

Acting President Hee Sug Ryu of Ajou University said, "I hope that this Program will become a successful model of global cooperation among industry, academia, and research institutes," adding, "I also look forward to seeing similar programs developed for other Southeast Asian countries, with the University being able to carry out sustainable development and cooperation projects by educating students from developing countries."