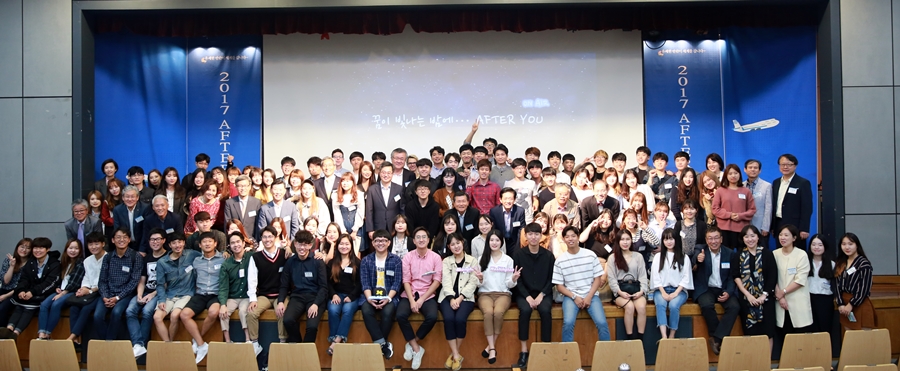 < Participants pose for a group photo after Part 1 of the presentation event.>
A presentation on the 2017 Summer After You Program was held on the evening of September 28th in the Dasan Hall auditorium at Ajou University.

The event was attended by about 120 students who were sent to five universities in the U.S. and China during summer vacation and the ten mentors who support the Program. Also in attendance were relevant officials from Ajou and other universities whose students participated in the After You Program.

The event consisted of two parts. In Part 1, which was entitled "A Night Filled with Dreams," five student participants, including Je Heon Park, introduced their experiences during the Summer Program in a radio program format. They played videos compiled by student teams that were dispatched to the five partner universities along with the lessons they learned. Their stories featured the program content and advantages at each university and various interesting experiences in their respective cities and countries. In Part 2, the student participants and their mentors had informal exchanges on the lawn in front of Seongho Hall at a beer party for which Chairman Hong Kuk Kim of Harim Group provided food and drinks.

The mentors included Ajou's former president Dong Yeon Kim (currently Deputy Prime Minister and Minister of Strategy and Finance), Harim Group Chairman Kim, CEO Dong Heon Kang of Komelon, CEO Kye Shin Park of Diatech Korea, Advisor Shi Hyeong Park of Sam & Parkers, Advisor Gi Jin Song of Law Firm Daeryook & Aju, Chairman Jong Kyoo Yoon of KB Financial Group. Each mentor held discussions with 8-10 mentees – the students participating in the After You Program – before they left for their partner universities and gave advice after hearing from the students about their activities in the second part of the event.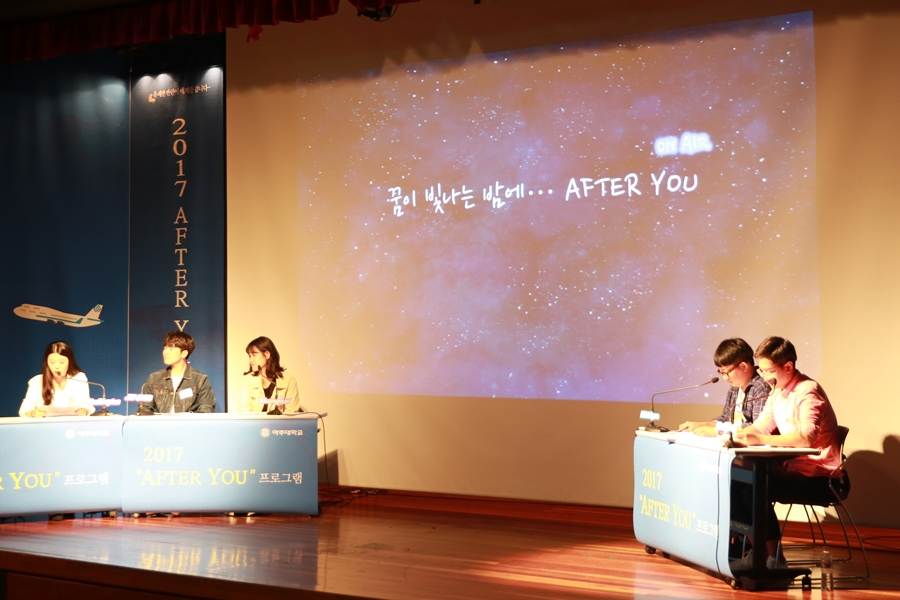 < Five student participants introduce their respective activities during Part 1 of the presentation. >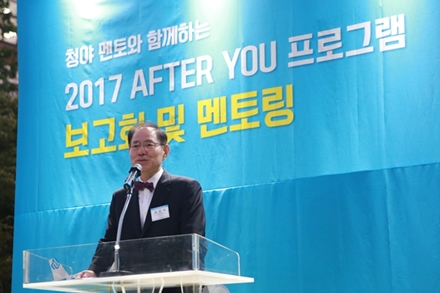 < Acting Ajou University President Hee Sug Ryu gives a welcome speech>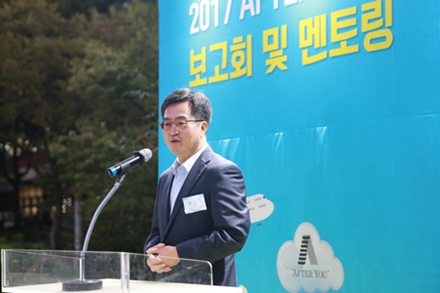 <Former president Dong Yeon Kim delivers a congratulatory message.>