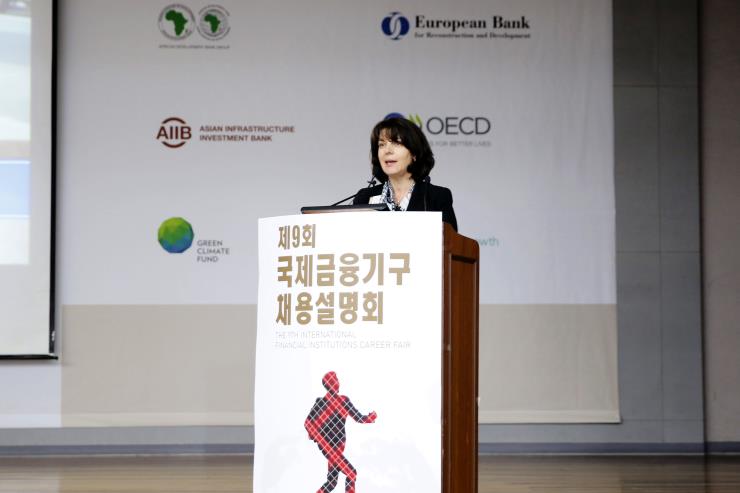 The ninth recruitment presentation by international financial institutions was held on November 15th at Ajou University.

The event, which was hosted by the Ministry of Strategy and Finance (MOSF), is designed to provide information to students wishing to enter international financial institutions. It was attended by officials in charge of personnel management at nine international financial institutions – the World Bank (WB) and the International Monetary Fund (IMF), the Asian Development Bank (ADB), the African Development Bank (AfDB), the European Bank for Reconstruction and Development (EBRD), the Asian Infrastructure Investment Bank (AIIB), the Organization for Economic Co-operation and Development (OECD), the Green Climate Fund (GCF), and the Global Green Growth Institute (GGGI).

The event featured introductions of personnel policies by officials from the international institutions, presentations about work experiences at the institutions, and recruitment interviews by the respective institutions.

Deputy Minister for International Affairs Geon Il Hwang from MOSF said, "More and more Koreans are working at international financial institutions and they are recognized for their commitment and abilities," adding, "I hope that you develop communication abilities, expertise, and teamwork skills necessary for collaboration, which are necessary for you to join international institutions."

Acting Ajou University President Hee Sug Ryu said in his welcoming message, "I ask you to focus more on 'jobs' than 'positions' and think hard about your career and gain extensive experiences," adding, "I believe that this recruitment event will be very informative in that sense."

The next recruitment event will be held on the 17th at Mokpo National University.