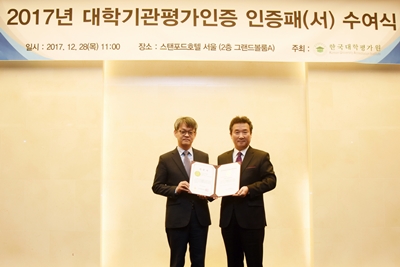 < Vice President for Research Jung Ju Choi from Ajou University (left in the above picture) receives a plaque of accreditation from Director Jong Bo Lim of the Center for University Accreditation under the Korean Council of University Education (KCUE). >

Ajou University was selected as an excellent university in the 2017 university accreditation. The assessment and accreditation of Korean universities, which is conducted by the Center for University Accreditation (CUA) – an independent body under the Korean Council of University Education (KCUE), aims to ensure that the nation's higher-education institutions maintain proper education quality, fulfill their social responsibilities, and are recognized internationally.

Thirty-one universities applied for the latest accreditation and 29 of them, including Ajou, were accredited, which is effective for the next five years. The remaining two institutions received conditional accreditations.

Ajou University was acknowledged for fulfilling its social responsibilities through its social contribution programs. Yonsei University, Sogang University, and Korea Nazarene University were also chosen as excellent universities.

CUA conducted the first cycle of university accreditation from 2011 to 2015 and is carrying out the second cycle from 2016 to 2020.

Universities should meet CUA requirements in six standards: 71% in full-time faculty members, 100% in school buildings, 95% in recruiting students and 80% in enrolled students vs. the allocated quota, 100% of investment in education, and 100% in scholarships. In addition, they must satisfy CUA standards in the five areas of institutional philosophy and management, education, faculty and staff members, educational facilities and student support, and institutional performance and social responsibilities.