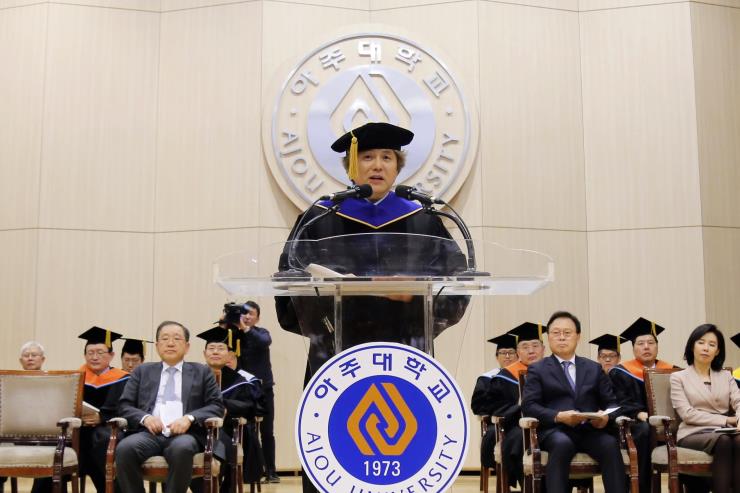 Ajou's Endowed Chair Professor Hyeong Ju Park (Department of Mathematics) was inaugurated as the University's 16th President. The inauguration ceremony was held at 2 p.m. on February 8th in the University's Jonghap Hall auditorium with about 800 people in attendance, including students, professors and staff members from the University, and officials from the Daewoo Educational Foundation.

The event began with a procession of the University's executives, followed by an address by Chairman Ho Seok Choo of the Daewoo Educational Foundation, an introduction of and inaugural remarks by the incoming President, and congratulatory messages.

In his inaugural remarks, the new President Hyeong Ju Park said, "The goal of education should be different in the era of the Fourth Industrial Revolution," adding, "It should change from fostering people who are good at addressing typical issues to producing many leaders who are able to resolve complicated problems and set future directions through their 'power of insight.'"

He went on to say, "The ability to learn what is necessary is an essential condition for survival in this world where knowledge is generated very quickly and jobs are created and disappear rapidly," adding, "The first priority of education should be to help people realize the pleasure of 'constantly gaining and applying knowledge.'"

Chairman Choo stated, "I ask you to warmly encourage and support the incoming President Park so that he can successfully perform his job at this important time for the University," adding, "2018 will be a historic year that will open a new chapter in Ajou University's history if all of us fulfill our respective responsibilities."

Deputy Prime Minister and Minister of Strategy and Finance Dong Yeon Kim, 15th President of the University, said in his congratulatory speech, "I hope that all the faculty and staff members will be proud of themselves in executing various projects," adding, "I ask Ajou people to provide full support for President Park so that he can lead such initiatives."

He also added, "I said that I will remain as a member of Ajou people even after leaving the University. I will keep my word and do whatever I can to help its further development."

National Assembly Members Kwang On Park and Kyung Mee Park and Chairman Ki Hyeong Lee of Interpark Holdings followed Deputy Prime Minister Kim with their own congratulatory messages.

Chairman Lee said, "Since his school days, President Hyeong Ju Park has not only been excellent in his academic performance, but also passionate in communicating with others and the community to resolve problems," adding, "I expect that he will continue to face and take up challenges."

President Beom Jae Lee of the University's General Alumni Association stated, "I expect that President Park will lead Ajou into becoming one of the most innovative universities based on his outstanding abilities and leadership," adding, "All alumni will play their respective parts for the development of the University."

President Hyeong Ju Park graduated from the Department of Physics at Seoul National University and earned his doctoral degree from the University of California, Berkeley, in the U.S. He then joined Ajou University in 2015 as an Endowed Chair Professor in the Department of Mathematics after working as a professor at Auckland University in the U.S., the Korea Institute for Advanced Study under KAIST, and Postech. He served as the President of the National Institute for Mathematical Sciences until last July. President Park's term is four years, from February 1st, 2018, to January 31st, 2022.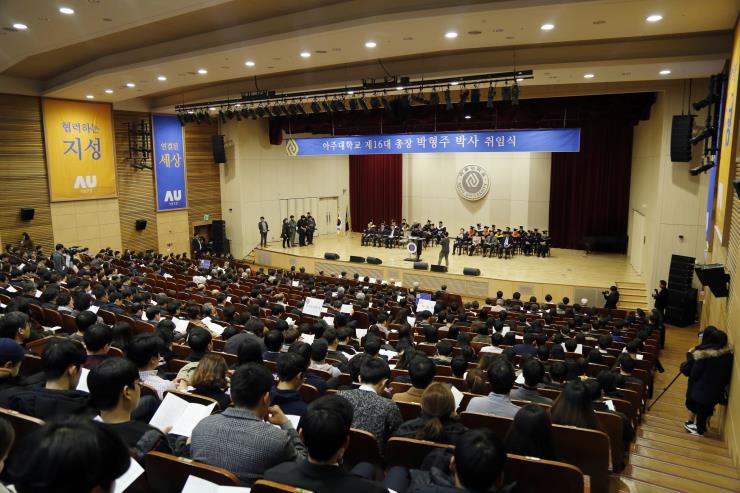 < A scene from the inauguration ceremony of Ajou's 16th President Hyeong Ju Park >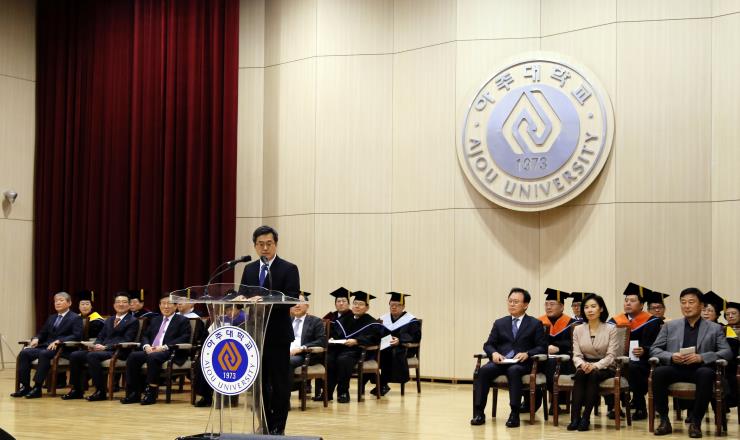 < Deputy Prime Minister Dong Yeon Kim gives a congratulatory speech. >