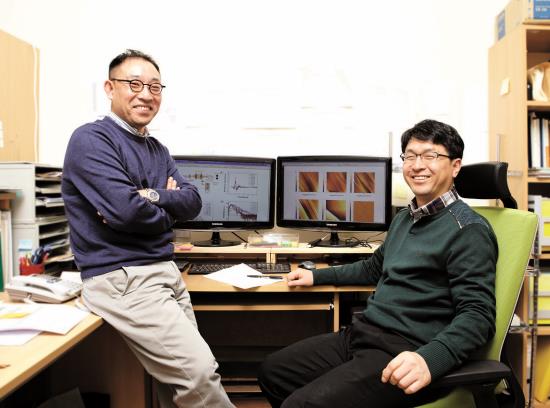 A research team of Ajou University Professor O Pil Kwon has succeeded in developing a new type of crystal with optical nonlinearity that can control light speed and features within materials. The finding is expected to be used extensively in high-speed optical communication, lasers, and terahertz wave generators, etc., where the features of light should be controlled.
Professor Kwon (Department of Applied Chemical & Biological Engineering, Graduate School's Department of Molecular Science and Technology, pictured right above) teamed up with Professor Sang Min Lee of KAIST (Department of Physics, pictured left above) to develop the crystal that can be applied to various photovoltaic devices.
Their research findings were published on May 22nd as the cover paper in The Advanced Optical Materials, a prominent academic journal, under the title "Single Crystals Based on Hydrogen‐Bonding Mediated Cation-Anion Assembly with Extremely Large Optical Nonlinearity and Their Application for Intense THz Wave Generation."
Organic non-linear optical crystals are drawing keen interest as a photovoltaic material capable of controlling the features of light within materials, such as wavelength and refraction. The crystals can lead to highly efficient photovoltaic elements that are used in high-speed optical communication devices, lasers, and terahertz wave generators, etc., based on high operational stability. Photovoltaic elements enable the transmission of electrical data via optical communication cables after changing electrical signals to light signals and can be used for various light sources by adjusting or selectively extracting light wavelengths.
A variety of inorganic crystals have been used to develop efficient photovoltaic elements. However, these have not been viable for commercialization because they are not efficient enough due to their low optical nonlinearity. High-molecular non-linear optical elements also have had limitations in operational stability because their high non-linear optical features disappear when used for an extended period of time.
Existing organic non-linear optical crystals have also been difficult to use in various photovoltaic elements because most have cation and anion arranged in a parallel structure. Organic crystals with different chemical structures show similar optical and material features when they have similar arrangement structures. Therefore, optical materials with a parallel cation-anion arrangement failed to meet the diverse optical and material features required for different elements.
The research team discovered that high photovoltaic features can be achieved from high non-linear optical characteristics by introducing a serial structure where cation and anion are connected with hydrogen. Indeed, the newly developed crystals with a serial cation-anion structure display higher non-linear optical characteristics than most of the organic crystals with a parallel structure. In addition, the newly developed crystals are highly efficient in terahertz generation, which makes it possible to create strong light sources with weak light.
The research team explained, "Existing organic non-linear optical crystals were difficult to apply to various photovoltaic elements because of their parallel structure," adding, "The newly developed one, however, can be used in diverse photovoltaic elements based on its serial structure and different optical features."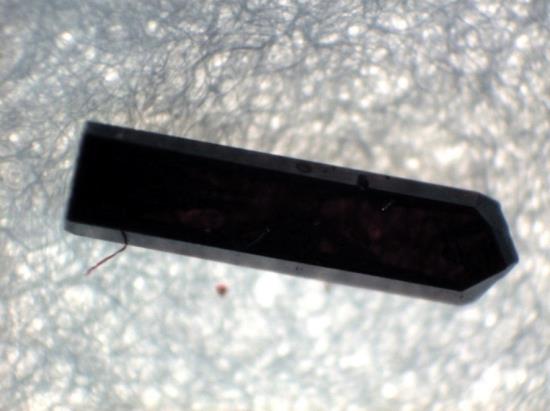 < A photovoltaic organic crystal with a serial cation-anion arrangement >