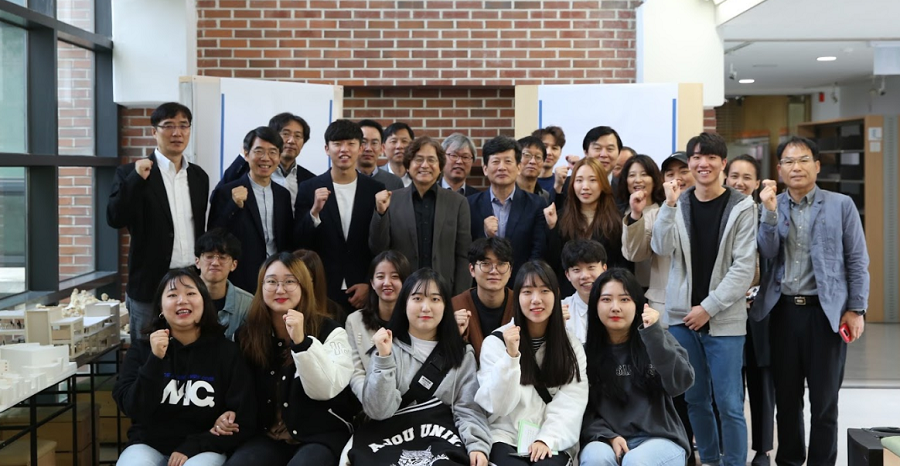 Ajou University's Department of Architecture unveiled its remodeled design studio and laboratory.
The event to open the remodeled design studio and laboratory was held on October 17th at the Industry-Academic Cooperation Foundation, with President Hyung Ju Park and other officials participating from the University. The participants toured the modernized facilities and observed demonstrations by robotic machines and a lecture provided in a classroom capable of measuring fine dust levels.
The remodeled studio will allow students of the Department of Architecture to engage in 'activity-based learning,' in which they can get hands-on practice and apply theories.
The renovation, which was carried out from August to September, is part of efforts to improve the educational environment. It used the University Development and LINC+ Project funds to remodel 18 studios on the third floor and build two interactive lab systems on the eighth floor in the Industry-Academic Cooperation Foundation Building. In addition, inner building walls were painted, ceiling materials were replaced, and LED lighting and system air-conditioning were installed along with new PCs and educational software being purchased.
President Park said, "Activity-based learning is one of the global educational trends of our times," adding, "Students of the Department of Architecture will be able to further develop their abilities by utilizing the new facilities and receive various trainings."
He went on to say, "The University is planning to offer subjects that are in line with activity-based learning and provide necessary support with renovated facilities and equipment," adding, "I think that the Department of Architecture has established a successful model in that regard, which is a great first step."