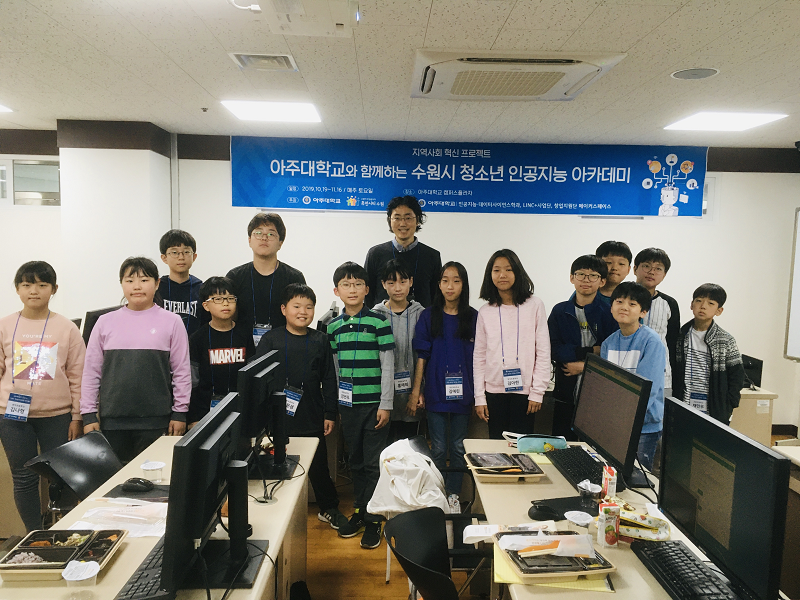 Ajou University launched a program for youth – elementary, middle, and high school students – in the local community to foster next-generation talents.
The Youth AI Academy, which kicked off on October 19th in partnership with Suwon City, aims to provide young students with opportunities to understand and experience artificial intelligence, a key technology of the Fourth Industrial Revolution. Fifteen students from local elementary schools and 25 from middle and high schools are participating in the program.
Based on the solid education infrastructure of the Graduate School's Department of Artificial Intelligence and Data Science, Ajou University will provide such classes as Python Programming Basics, Machine Learning Basics and Applications, and 3D Printing Design and Practice. Lecturers for the program include graduate school students from the University.
The program, touted as an innovative local project model, is part of efforts to promote local industries by fostering the next generation of talents. Ajou's LINC+ Project Group and Business Incubation Center will be responsible for the curriculum and are expected to create synergy by developing a pioneering model.
The Academy will be held every Saturday for five weeks through November 16th in the University's Campus Plaza, with the students who attend at least 80% of the classes earning certificates of education.
Director Jae Hoon Jeong of the Department of Artificial Intelligence and Data Science said, "AI is fast penetrating into medicine, finance, smart homes, smart cities, and self-driving vehicles, etc.," adding, "With the help of the program, young students from the community will be able to develop abilities as next-generation talents through practice with AI algorithms and logical thinking."