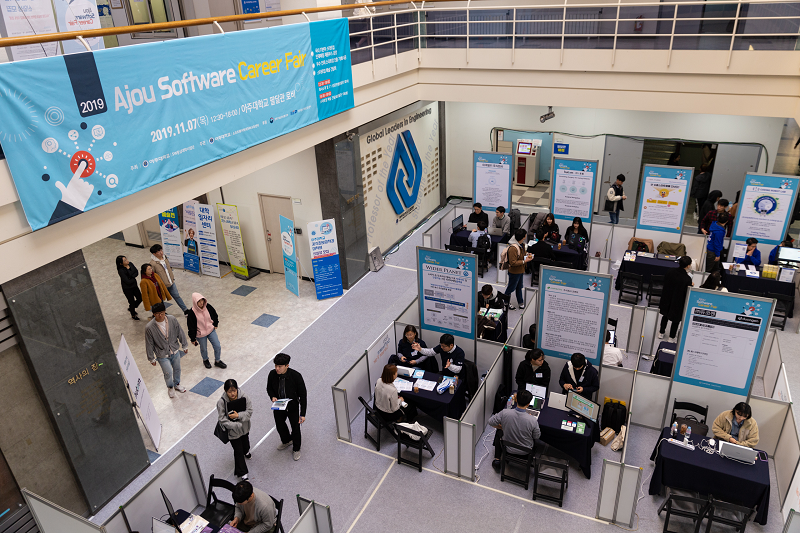 Ajou University's Software Specialized University Project Group held the 2019 Software Career Fair.
During the Fair, which was held on November 7th in Paldal Hall, startup companies set up booths to introduce their businesses and offered job-seeking advice to students. In a separate meeting, officials from the companies discussed the status of the startup industry with participating students.
The event was attended by 182 students and 14 startup businesses, including Ducogen, Sagolink, Idea Concert, Everspin, Wider Planet, Equalkey, Jiwoo Company, Coding Robot Lab, Comento, CrowdWorks, Kidsoft, Platfarm, and Hutom.
Some of the participating companies – Ducogen, Sagolink, Idea Concert, Wider Planet, Equalkey, Jiwoo Company, Coding Robot Lab, and Platfarm – are scheduled to provide the University students with internship opportunities this winter.
Professor Dae Kyun Yoon of the Industrial-Academic Cooperation Center said, "I hope that this event will help students consider startups for their future careers, beyond only large corporations and public companies, by providing useful information," adding, "Students could realize the long-term advantages and opportunities of becoming software developers, system operators or security experts, and corporate managers through meetings with officials from startup companies."