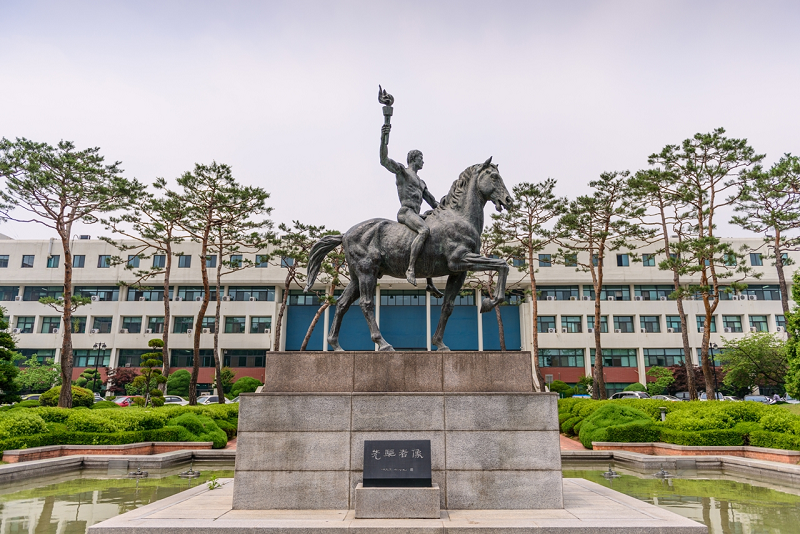 Ajou University ranked 11th for the second straight year in the 2019 Joongang Ilbo University Evaluation, leading in Business Startup Education.
Joongang Ilbo University Evaluation, which was released on November 16th, assessed fifty-six four-year universities with at least four colleges from among the humanities, social sciences, engineering, natural sciences, medicine, and the arts and physical education.
The University recorded a consistently strong performance across the evaluation criteria.
In particular, it took first place among all universities in Business Startup Education thanks to its extensive programs including 'Business Startup Track' and innovative curriculum that allows students to understand everything about starting their own business from theory to on-site experience.
Paran Semester, an activity-based innovative education program, also contributed to motivating students to start businesses. Ajou launched the program in 2016 for the first time among domestic universities to provide students with opportunities to accomplish their own goals, inducing them to design and carry out tasks and receive credits based on the results.
The University also performed well in student participation in on-site internships (4th place), the diversity of foreign students (4th), and retained employment (12th). In the Faculty Research category, Ajou ranked 11th in technology transfer income per member, which points to improved research capabilities and active industry-academia cooperation.
The University's strong performance in Retained Employment is because its experiment-oriented education produced qualified talents for related businesses.
For example, the University installed clean rooms for semiconductor manufacturing on campus and sought to provide necessary talents to the companies in the neighboring industrial complexes in Pangyo, etc. Through these efforts, the University raised the employment rate of its graduates and student satisfaction also climbed because they had extensive experience in their work in advance.
Joongang Ilbo University Ranking
1. Seoul National University

16. Kookmin University

2. Sungkyunkwan University

17. Dongguk University (Seoul)

3. Hanyang University (Seoul)

18. Pusan National University

4. Yonsei University (Seoul)

19. Sookmyung Women's University

5. Korea University (Seoul)

20. Chonbuk National University

6. Kyung Hee University

21. Seoul National University of Science

and Technology

7. Chung-Ang University

22. Sejong University

8. Sogang University

23. Kyungpook National University

8. Ewha Womans University

24. Incheon National University

10. Hanyang University (ERICA)

25. Chonnam National University

11. Ajou University

26. Chungnam National University

12. University of Seoul

27. Hongik University

13. Hankuk University of Foreign Studies

28. Chungbuk National University

14. Konkuk University (Seoul)

29. Gachon University

15. Inha University

29. Catholic University of Korea