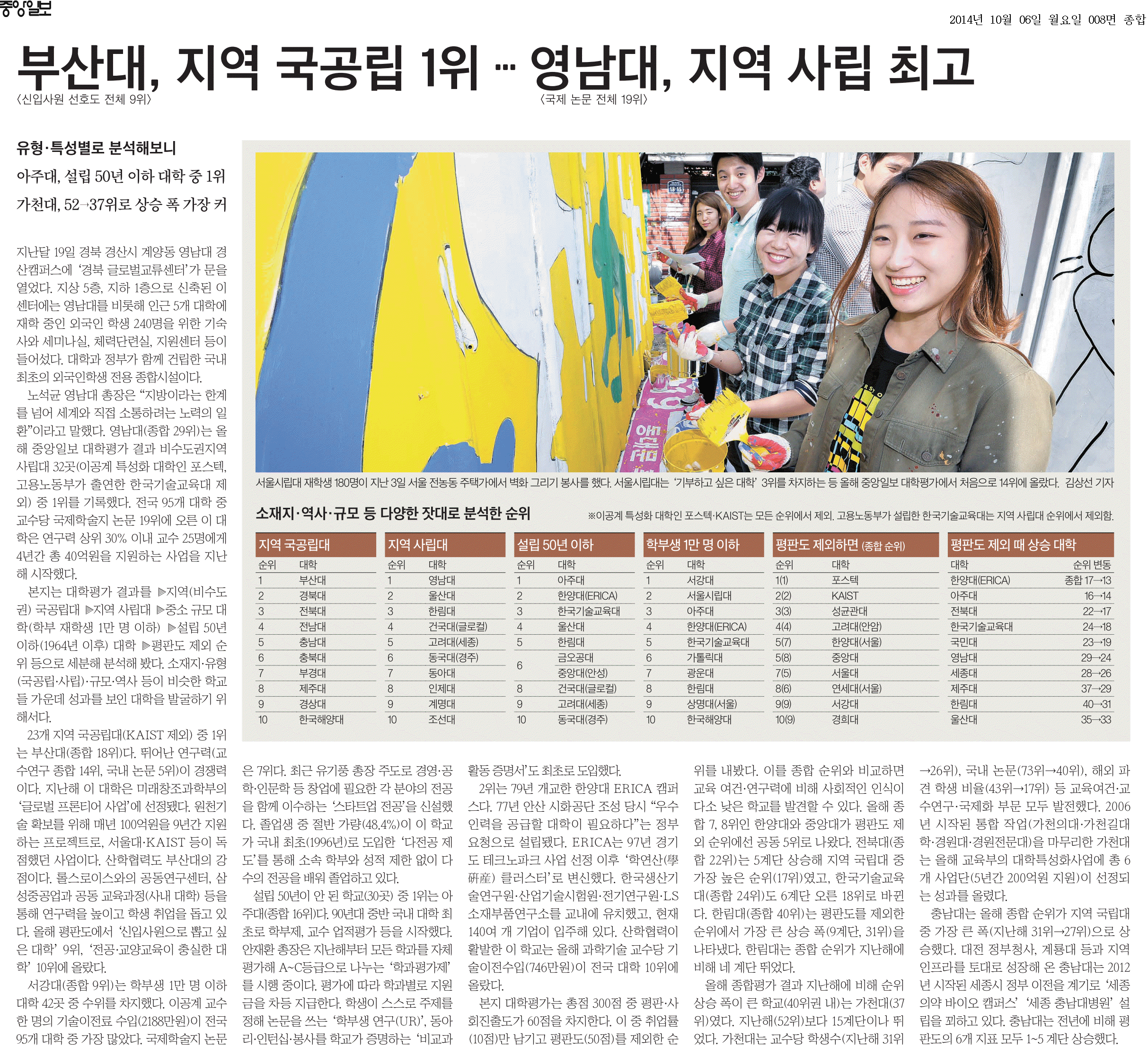 Ajou University came in sixteenth place in the Joongang Daily's "2014 University Assessment". Each year, the Joongang Daily conducts an assessment of Korean universities based on a total of 32 evaluation indices, including globalization, faculty research, educational environment, finances, reputation, and performance of graduates in society. This year, 95 four-year universities were assessed.

According to the Joongang Daily's University Assessment team, Ajou University came in sixteenth place with 175.45 points. The competition between universities from fourteenth to sixteenth place was fierce, with the University of Seoul and Inha University each scoring 175.52 and 175.86 points, respectively (joint 14th place).
This year's results showed that among universities that were founded less than 50 years ago, Ajou University had the highest ranking. Hanyang University (Erica campus), Korea University of Technology and Education, and the University of Ulsan followed close behind. The Joongang Daily re-analyzed the results of the assessment based on university location, history, and size, and printed the results of this second analysis in its October 6 newspaper edition.

In this article, the Joongang Daily's University Assessment team stated, "Ajou University was the first Korean university to introduce the department-based application system and faculty output evaluations beginning in the mid-1990s," and went on to explain that "since 2013, when President Jae-Hwan Ahn launched the department evaluation system, which has all departments evaluate themselves on an A to C grade scale, funding has been provided for each department based on performance."

The article added that Ajou University was also the first to introduce the "non-academic activity certification system," in which the university certifies undergraduate research for which students write a thesis on a self-selected topic, as well as extracurricular group activities, internships, and community service activities.

By individual index, Ajou University received the following rankings: globalization: 19; reputation and performance of graduates in society: 17; education environment and finances: 24; and faculty research: 22. In the "potential for development" category, under "reputation and performance of graduates in society," Ajou University raised last year's rank of 19 up to 15 in 2014, a significant improvement. The employment maintenance rate, which represents the quality of employment gained by students after graduation, was 93 percent (sixth place).