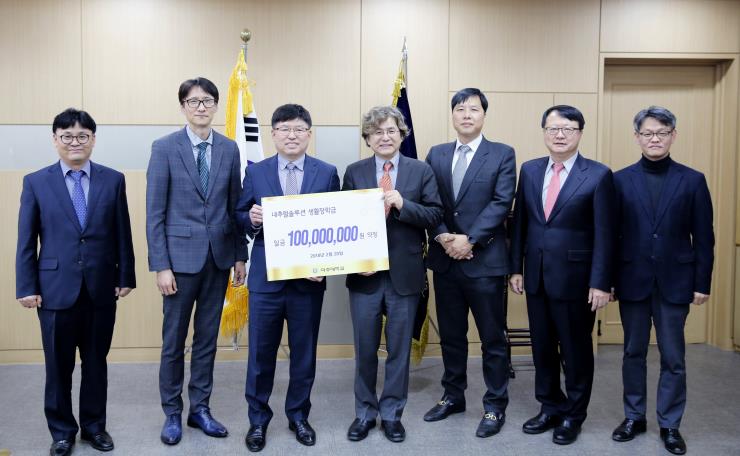 The Garden of Natural Solution, an Ajou-alumni-run business, promised to donate 100 million won to the University. The donation will be used as scholarship funds for students in Ajou's Department of Applied Chemical & Biological Engineering under the name 'Natural Solution Scholarship.'

CEO Du Shik Jang and other officials from the company made the donation during their visit to the University on February 20th. President Hyeong Ju Park delivered a plaque of appreciation to the donors.

Also in attendance at the event were Dean Yong Jin Kwon of the College of Engineering, Vice President for Research Jung Ju Choi, and Vice President for Student Affairs Jai Hyoung Cho.

The Garden of Natural Solution, which was selected in 2016 as a promising SME by the Gyeonggi Provincial Government thanks to its technological expertise, develops and supplies materials for cosmetics and food derived from natural ingredients.

CEO Du Shik Jang (entrance class of 1982, Department of Electrical and Computer Engineering) and CEO Moon Shik Jang (entrance class of 1987, Department of Biological Engineering, obtained PhD in 2004) have been steadily interested in the development of the University. From this year, the company will donate 10 million won per year over ten years.