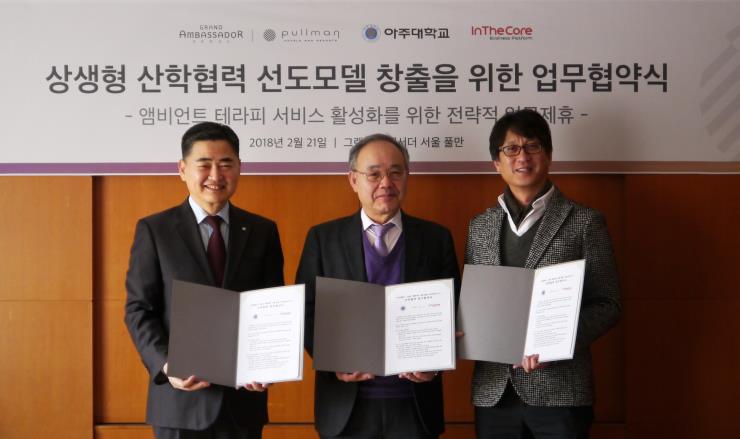 Ajou University signed a cooperation agreement with Grand Ambassador Seoul associated with Pullman and InTheCore.

The agreement signing ceremony, which was held in the Grand Ambassador Seoul Hotel on Feb 21st, was attended by Vice President for Industry-Academia Cooperation Kyung Hee Choi from Ajou University, CEO Don Min Lee from Grand Ambassador Seoul, and CEO Hyeon Seok Han and other officials from InTheCore.

The three institutions will work closely to create mutually beneficial industry-academia cooperation models with the priority being the promotion of Ambient Therapy Service (ATS) based on the Internet of Things. ATS aims to provide tailored services based on customers' behavior patterns collected from multiple sensors.

To this end, the University and InTheCore will conduct research to promote ATS at Grand Ambassador Seoul. They will analyze customers' behavior patterns through their smart devices and carry out R&D to provide the proper therapies and environment for sound sleep in different seasons and times during the day, etc.

In addition, they will seek to establish other programs that can benefit Ajou's students and the employees of the partner institutions, including education on industry-academia cooperation and collaboration in technical and human resources.

Vice President Choi said, "I expect that this agreement will bring fruitful and advanced results for both the experts and employees at our three institutions."

CEO Lee stated, "I hope that this agreement will help Grand Ambassador Seoul become a leader in the business based on IoT technologies," adding, "We will strive to provide our customers with more convenient and innovative experiences by developing various IoT-based services."