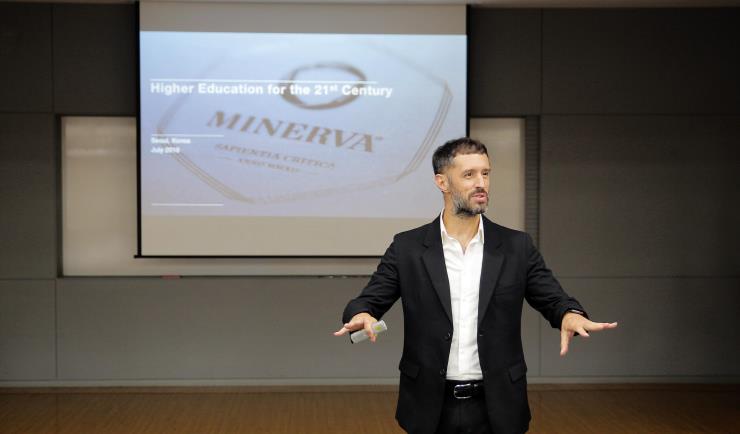 Asia Director Kenn Ross of Minerva School, an innovative university, delivered a lecture at Ajou University.

Director Ross gave a lecture entitled "Higher Education for the 21st Century" with Ajou people in attendance. He introduced the current status, objectives and goals, and systems, etc., of Minerva School.

Minerva School, which was established in 2011 and began recruiting students in 2014, has no offline campus and its students take online classes over four years. Dormitories are available for students in seven cities around the world, including Seoul.

According to Director Ross, the School aims to nurture critical wisdom for the sake of the world and educate students to solve problems, think critically, and communicate properly, rather than imposing information and knowledge on them."

In order to achieve this, the School organizes active classes through advanced technologies and helps professors and students realize close exchanges with each other. All the classes are provided online in small groups, and professors evaluate individual students following every class, with the focus placed on their participation and efforts to enhance their abilities to think independently. Such an environment allows faculty members to recognize any difficulties students may have in their studies.

Director Ross said, "Students are at the very center of Minerva School in every aspect," adding, "Today, you can gain knowledge and information anytime, anywhere, which makes it even more important to be able to think critically, solve problems, and communicate properly."

He went on to say, "At the Minerva School, we design not only individual classes, but overall education systems in a way that helps students improve these abilities," adding, "In recruiting faculty members, we prioritize applicants' ability to teach and coach students efficiently and help professors design active classes through continued reeducation."

The lecture was given as part of the efforts of the Humanities Education Innovation Task Force that is being operated under Ajou University. The Task Force was launched to analyze cases of domestic and overseas universities regarding the improvement of humanities education and to come up with educational measures that fit the University."