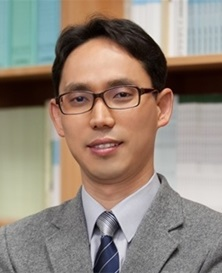 A team of researchers led by Ajou's Prof. Seo Hyung-tak has successfully developed a high-precision sensor capable of detecting high concentrations of hydrogen. The researchers expect their work to help enhance the safety of hydrogen energy, supporting the production and application of hydrogen in the future.
Prof. Seo (Dept. of Materials Science and Engineering / Graduate Dept. of Energy Systems, pictured) and his team have invented a high-precision hydrogen sensor capable of detecting hydrogen at all levels of concentration, from particles per million (ppm) to 100 percent, using a new material created by combining an ultra-thin, multilayered, alloyed catalyst and electrodes. Their discovery was published in a paper entitled "Confined interfacial alloying of multilayered Pd-Ni nanocatalyst for widening hydrogen detection capacity" in the January 1 online issue of Sensors & Actuators B: Chemicals, an international journal on sensing technology. Dr. Lee Young-Ahn and Dr. Le Thai Duy, both of Ajou University, were featured as the co-first authors. The team also included Prof. Kim Hyun-you of Chungnam National University and Dr. Park Ju-cheol of the Gumi Electronics and Information Technology Research Institute.
The range of possible applications of hydrogen as an alternative source of energy for automobiles, electricity generation, and other industries has been expanding rapidly as of late. The growing demand for hydrogen fuel cell vehicles, in particular, highlights the importance of developing hydrogen applications for eco-friendly transportation. Safety, however, has been a chief issue hindering the rapid growth of hydrogen as a fuel. An odorless, colorless substance that is also extremely lightweight, hydrogen carries a significant risk of undetected leakage. It does not take much to trigger an explosion when the hydrogen concentration in the surrounding air reaches four percent. Because extremely high pressure is crucial to ensuring the high energy intensity (energy stored per unit volume) required of hydrogen as a fuel, it is critical to equip hydrogen-powered vehicles and other such machinery with well-functioning hydrogen detectors.
Furthermore, to diversify the possible use of hydrogen for purposes including fuel cells, it is essential to have a device capable of monitoring and controlling the purity and concentration of hydrogen. High-precision sensors capable of monitoring high concentrations of hydrogen (95 to 100 percent) are in particularly high demand. Such high-concentration hydrogen sensors, however, can be very complex to develop. There are only a handful of expensive options available on the market worldwide today. None of the existing products, furthermore, are able to detect a wide range of hydrogen concentrations ranging from ppm levels to 100 percent.
With the goal of finding a high-precision, highly reliable alternative to the palladium (Pd) catalyst electrodes that are widely used in the conventional chemically resistant hydrogen sensors, the Ajou researchers have developed a new electrode by layering ultra-thin films of Pd and nickel (Ni) in a lattice-like fashion, with each layer having a thickness on the nanometer scale. Numerous existing structures using either a Pd film or nano-Pd structure are capable of detecting hydrogen at limited and low concentrations, but have proven hopelessly incapable of detecting hydrogen at concentrations of 50 percent or above. The hydrogen atoms decoupled from hydrogen molecules by the Pd fail to desorb from Pd lattices, thereby saturating the hydrogen signals, while repeated hydrogen detection also hydrogenates the Pd film or structure, destroying the catalyst.
Prof. Seo and his team's ultra-thin Pd-Ni interfacial super-lattice is capable of detecting high concentrations of hydrogen with incredible precision. It has indeed demonstrated top-notch performance at all levels of concentration (linearity = 95 to 99 percent, response time of less than three seconds, and signal variation of one percent or less). The new sensor even stably maintained its high performance throughout the repetitive accelerated durability test (hydrogen detected 40,000 times), a key step before the manufacture of hydrogen fuel cell parts. Furthermore, the team has demonstrated, through atom-level calculations and ultra-high-resolution transmission electron microscopy (TEM), that the success was entirely due to the structural stability of the Pd-Ni nano-surfactant alloy (only two to three nanometers in thickness) and its ability to reduce the energy required for hydrogen desorption.
Prof. Seo's team unveiled its latest invention at Consumer Electronics Show (CES) 2021, an exposition of today's most cutting-edge technologies. Due to the pandemic, this annual IT and appliance industry expo, the largest of its kind in the world, was held exclusively online from January 11 to 14 this year.
Prof. Seo explained: "Korean companies are solidifying their leadership in hydrogen fuel cell vehicles now that the demand for hydrogen energy is growing worldwide. Nevertheless, these companies have had to rely on very expensive and imported hydrogen sensors in order to ensure the safety of their products."
He added: "We are working on developing additional technologies to ensure the broad application of our new invention to hydrogen monitoring systems. Such systems have a wide array of potential applications in all hydrogen-using industries and sectors, including energy infrastructure, semiconductors, and petrochemicals."
The team's study was made possible with the support of the Energy Technology Development Program of the Ministry of Trade, Industry and Energy and Korea Institute of Energy Technology Evaluation and Planning, as well as the Research Support Program for New Researchers with Advanced Overseas Accomplishments, Basic Research Support Program, and BK21 Four Program of the Ministry of Science and ICT and National Research Foundation of Korea. The team has been granted a patent for their sensor in Korea, and their applications for patents worldwide are in progress.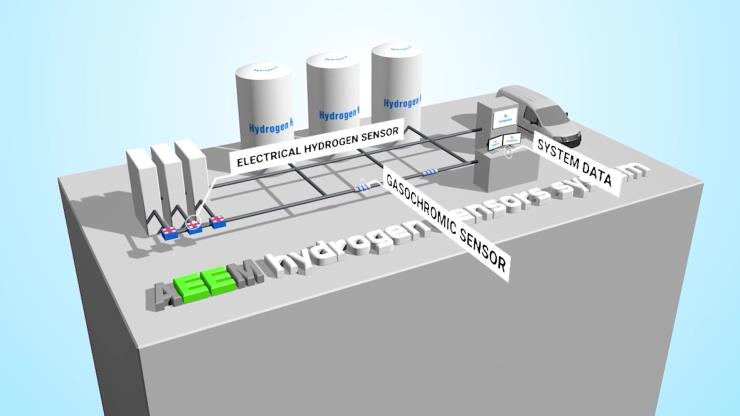 Image of Prof. Seo Hyung-tak and his team's hydrogen sensor shown at CES 2021