NEW "Envisions becoming a global premier university through creation and innovation." President Choi, from Dong-A Ilbo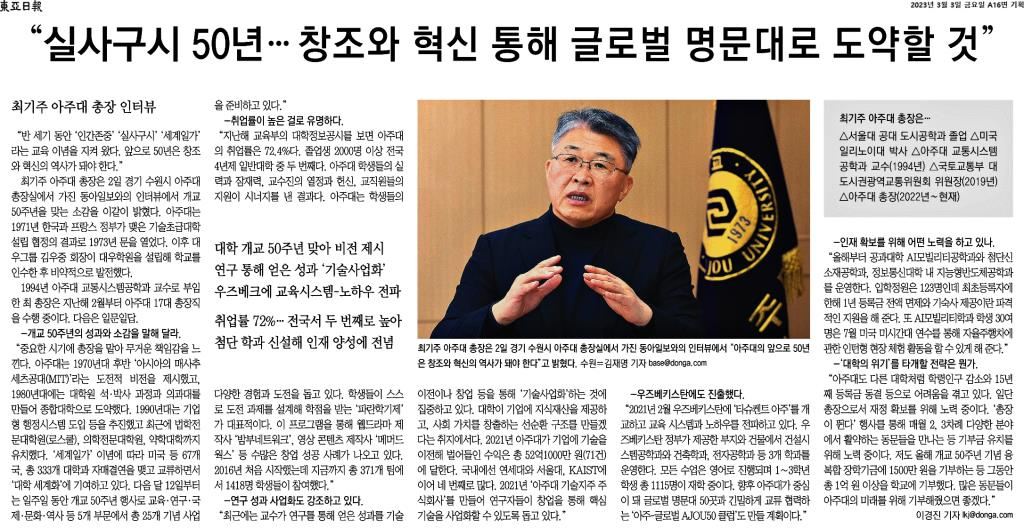 President Choi Kee-choo's interview with the Dong-A Ilbo regarding the 50th anniversary of Ajou University, as well as the university's achievements, vision, and goals, was carried in the March 3 issue of the newspaper. President Choi described the achievements of Ajou University and commemorative projects for the 50th anniversary; explained how Ajou achieved the best graduate employment rate among domestic universities; spoke about the university's technology commercialization efforts and internationalization strategy, including Ajou University in Tashkent (AUT); and highlighted the vision of Ajou University and its efforts toward that end.
President Choi said, "For the past 50 years, Ajou University has pursued the educational ideals of "respect for humans, seeking truth from fact, one world, one family," and we will ensure that the upcoming 50 years is an era of creation and innovation."
He added, "As president, I am meeting alumni working in various fields to attract donations through the 'President Is Leading' event, and I hope many graduates of Ajou will join this drive for the future of Ajou University."
Ajou University marks its 50th anniversary on April 12. To celebrate, the university established the slogan "A+ for the World" and has prepared 25 commemorative projects in five categories: education, research, international cooperation, culture, and history.
# Go to article on interview with Dong-A Ilbo
# [Ajou Insight] Overview of all projects celebrating 50th anniversary of Ajou University