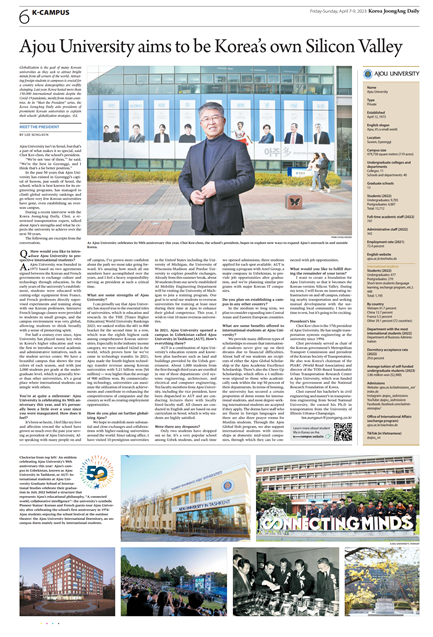 An interview with President Choi Kee-choo on the achievements, plans, and desires of Ajou University on the occasion of university's 50th anniversary was published in the April 7 issue of Korea Joongang Daily.
In the interview, President Choi talked about the inauguration and history of Ajou University, the university's 50th anniversary, its strengths and achievements, global strategy, Ajou University in Tashkent (AUT), and support system for foreign students.
President Choi said, "I am proud that Ajou University has played a pioneering role in both education and research. Going forward, we will remain dedicated to expanding our university infrastructure and fostering mutual growth with the local community."
He added, "Ajou University will also build relationships based on exchanges and cooperation with top global universities and help our students gain overseas experience by attending such institutions so as to become globally competitive."
Ajou University marks its 50th anniversary on April 12, for which it has established the slogan "A+ for the World" and prepared a total of 25 commemorative projects in five sectors, including education, research, international cooperation, culture, and history.
# Go to Korea JoongAng Daily article
*Images provided by Korea JoongAng Daily