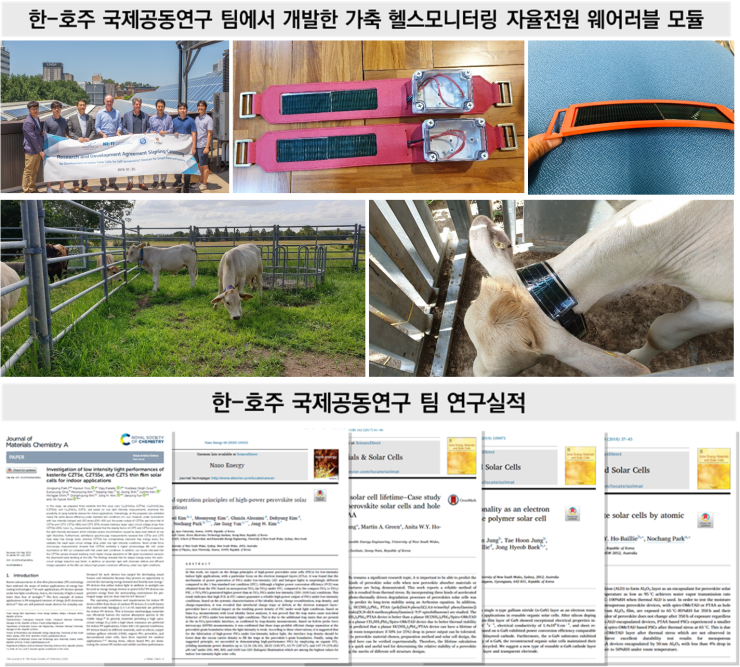 * Self-powered wearable module for diagnosing livestock health, developed by a team of Korean and Australian researchers
* Joint research by Korean and Australian researchers
A team of researchers led by Professor Kim Jong-hyun (Department of Applied Chemistry and Biological Engineering/Graduate Department of Molecular Science and Technology), working together with a team of Australian researchers, succeeded in developing the core technology for a self-powered wearable module for diagnosing livestock health. The technology is expected to aid in the development of a cutting-edge digital platform that allows large livestock farmers to diagnose and manage the health of their livestock in real time.
The results of the research collaboration, entitled "Investigation of Low-intensity Light Performance of Kesterite CZTSe, CZTSSe, and CZTS Thin-film Solar Cells for Indoor Applications," were published on the online issue of Journal of Materials Chemistry A (IF = 11.301, JCR top 6.7%) on July 21. The authors include researchers from Ajou University, the Green Energy Institute, Chonnam National University, and the University of New South Wales.
The researchers discovered the mechanism of a CZTSSe-based solar cell that can be used in a variety of low-light settings. CZTS-based thin-film solar cells are affordable and eco-friendly light absorbers, and are expected to lead to the development of a better alternative to existing solar cells, which are expensive and made of environmentally harmful heavy metals. Although CZTS-based solar cells have been known to boast superior conversion efficiency in outdoor settings with abundant sunlight, little research has been done on how effective they are in low-light settings, such as overcast weather and indoor environments.
The researchers thus set out to develop a CZTSSe film that could be used in a variety of low-light environments, and proved that such film could produce enough electricity to run Internet-of-things (IoT) sensors even in low-light settings. In other words, their CZTSSe thin-film solar cell demonstrated the capability for application to self-powered IoT sensors of various types used in either indoor or outdoor settings.
Timely and accurate diagnosis and projection of livestock diseases, including swine fever and foot-and-mouth disease (FMD), based on efficient monitoring is crucial to the containment of contagious animal diseases as well as the welfare of animals. Members of Professor Kim's team have been working together on multiple projects over the years to develop effective livestock health monitoring systems through collaboration with industries and academic institutions worldwide. The team has included members from Ajou University (Professor Kim), Chonnam National University (Professor Kim Jin-hyeok), Korea Electronics Technology Institute (Dr. Kim Jin-cheol and Dr. Park No-chang), Green Energy Institute (Dr. Park Jong-seong[KHTC1]), Daeyeon C&I Inc., and University of New South Wales and University of Queensland, both in Australia.
This global team has been searching for ways to create a wireless, standalone power system that can reliably supply electricity irrespective of the differences in livestock farming environments. Since developing a self-powered wearable module sensor for livestock health assessment, the researchers have been testing it in Australia.
The key to making a device like this possible lies in a solar cell that can be used in both outdoor and indoor environments. To this end, the team first developed a perovskite solar cell with superior output, and published their study in Nano Energy, a widely cited academic journal, in February 2020. The team had also been researching encapsulation technology to ensure the actual applicability of the solar cell they developed, and had their findings published in Solar Energy Materials & Solar Cells in December 2018.
Professor Kim explained, "We have developed a wireless, self-powered, wearable sensor module based on our earlier studies, and are now testing it on cattle on a farm in Brisbane. We plan to expand our trial to include large-scale farms in other regions of Australia."
The team regularly organizes their own meetings and exchanges to facilitate better understanding of the technological demands of large livestock farms in Australia and develop solutions accordingly. A leader in advanced livestock and agricultural technologies, Australia has a significant stake in developing reliable solutions for diagnosing livestock health so as to help farmers protect and increase their income. The researchers are now planning to expand the scale of their experiment in Australia with additional support promised by the city of Narromine and its mayor, Craig Davies, in New South Wales.
Professor Kim remarked, "When we succeed in developing the final product based on our wearable livestock health diagnosis module, it will very likely find a welcoming market in the Australian livestock industry. We intend to add the big data from our continuing trials and the AI-based model of analysis we are developing to our study and build diagnostic and monitoring platforms by country and livestock species."
The team's research has been aided by the International R&D Collaboration Program (P0006857) of the Ministry of Trade, Industry and Energy and the Korea Institute for Advancement of Technology, as well as the Korea-Oceania Collaboration Infrastructure Development Program (NRF-2018K1A3A1A17081404) of the Ministry of Science and ICT and the National Research Foundation of Korea.