Researchers develop an alternative to inkjet printing for enhanced intensity and perfect color conversion in organic LED displays
Existing blue organic light emitting diode (BOLED) displays use inkjet printing-based color filters for color conversion, resulting in a trade-off between perfect conversion and brightness. To tackle this, researchers from Korea have now developed luminescent films that are extremely thin compared to inkjet printing, can completely convert colors, and enhance light intensity. The deposited films could potentially be applied to quantum dot-enhanced BOLED displays soon.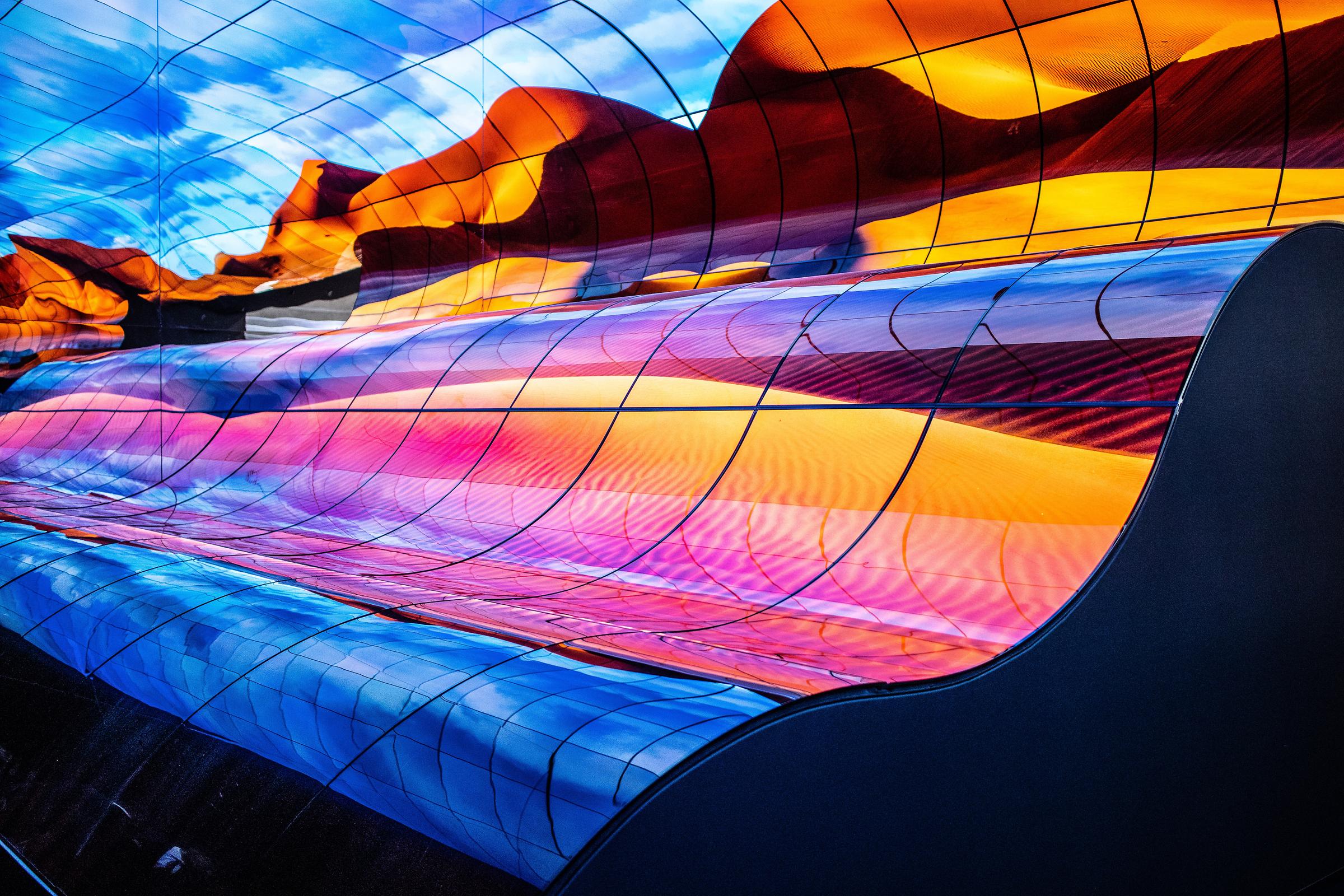 Credit: Grzegorz Czapski from Shutterstock.
Caption: A technique developed by researchers from Korea, called ultrasonic-assisted aerosol deposition, for the direct co-deposition of perovskite quantum dots and metal oxides facilitates perfect color conversion and enhances the luminance of blue OLED displays.
In recent times, organic light emitting diodes (OLEDs) have revolutionized the flat-panel display industry. Additionally, with the advent of quantum dot (QD)-enhanced LCDs, it is now possible to achieve a wide range of realistic color experience owing to their narrower emission bandwidth. But, the dependence of these technologies on color filters to produce color subpixels limits their utilization in large-area panel displays. This challenge persists even with the novel QD-OLED hybrid system, which uses an inkjet printing process to print color conversion layers (CCLs). Besides being stringent, the inkjet printing process fails to achieve the optimal thickness and density for QDs and experiences the issue of blue light leakage, impeding the advancement of these display technologies.
Now, a team of researchers from Korea report a novel film fabrication method that overcomes these limitations, facilitating perfect color conversion and enhanced light intensity. The study was led by Prof. Sang-Wook Kim of Ajou University, Korea and was published in the Chemical Engineering Journal. As Prof. Kim explains, "We utilized a technique called 'ultrasonic-assisted aerosol deposition' (UAD) [A1]to develop thin CCLs and simultaneously used lead halide perovskite nanocrystals as light-emitting material on CCLs, which demonstrated excellent color purity and high luminous efficiency levels."
To this end, the researchers prepared a blue OLED (BOLED) using ITO glass and deposited the synthesized perovskite quantum dot (PeQD) aerosol /metal oxide composite layers on it. The deposited films were a mere 3 μm thick, a quarter of the inkjet-printed films! The PeQD layers embedded with aluminum oxide and silica particles facilitated efficient blocking of blue light leakage. In addition, the metal oxides significantly increased the luminance intensity from the BOLED to the CCL.
Further, the researchers demonstrated the compatibility of this novel technique with versatile patterning processes. They showed that UAD can be combined with a fine-metal shadow mask to produce a pattern of 30-μm diameter dots. Particularly, the direct writing method for creating PeQD array patterns provided the narrowest line patterns of about 13 μm.
Elaborating the advantage of this method, Prof. Kim notes, "The proposed technique enables the formation of very dense films without the need for any complicated equipment, and requires relatively less throughput time compared to other deposition techniques."
This development can greatly simplify the color patterning process in LED displays, and help achieve high display resolutions, marking an advancement in display printing technology. Going ahead, the "color filter free" method is expected to find usage in QD-enabled displays, ultimately contributing to their application in ultra-large panel displays.
Reference
Authors:

Sunghoon Kim1, Seokwoo Kang2, Seungmin Baek3, Jinouk Song4, Na-Eun Mun1, Hyukmin Kwon2, Hyo-Geun Kwon3, Yong-Jin Pu5, Tae-Woo Lee6, Seunghyup Yoo4, Jong-Min Oh7, Jongwook Park2, Sang-Wook Kim3




Title of original paper:




Highly thin film with aerosol-deposited perovskite quantum dot/metal oxide composite for perfect color conversion and luminance enhancement

Journal:

Chemical Engineering Journal

DOI:

Affiliations:

1 Department of Applied Chemistry Food Science and Technology, Dong-Eui University

2 Integrated Engineering, Department of Chemical Engineering, Kyung Hee University

3 Nanomaterials Laboratory, Department of Molecular Science and Technology, Ajou University

4 School of Electrical Engineering, Korea Advanced Institute of Science and Technology (KAIST)

5 RIKEN Center for Emergent Matter Science (CEMS)

6 Department of Materials Science and Engineering, Seoul National University

7 Department of Electronic Materials Engineering, Kwangwoon University



*Corresponding author's email: swkim@ajou.ac.kr
About Ajou University
Founded in 1973, Ajou University has quickly grown to become one of the top universities in the Republic of Korea. With over 15,000 students and 50 research centers in diverse fields, Ajou University partakes in the largest national research and graduate education project funded by the Korean Ministry of Education. In line with its recently reformed vision, Ajou University's goal is to change society by connecting minds and carrying out high-impact research to improve the welfare of people in and outside Korea.
Website: https://www.ajou.ac.kr/en/index.do
About the author
Sang-Wook Kim is a Professor at the department of bioengineering and applied chemistry, Ajou University. He received his PhD in applied chemistry from the Seoul National University in 2002. Thereafter, he completed his postdoctoral training from the Bawendi lab at Massachusetts Institute of Technology, USA before joining Ajou University. His research mainly focuses on quantum dot synthesis and application. In the recent past, he has worked on perovskite quantum dots and their LED application. He has published about 150 papers on nanoscience.
[A1]We have now added this abbreviation here since it has been used later in the press note.